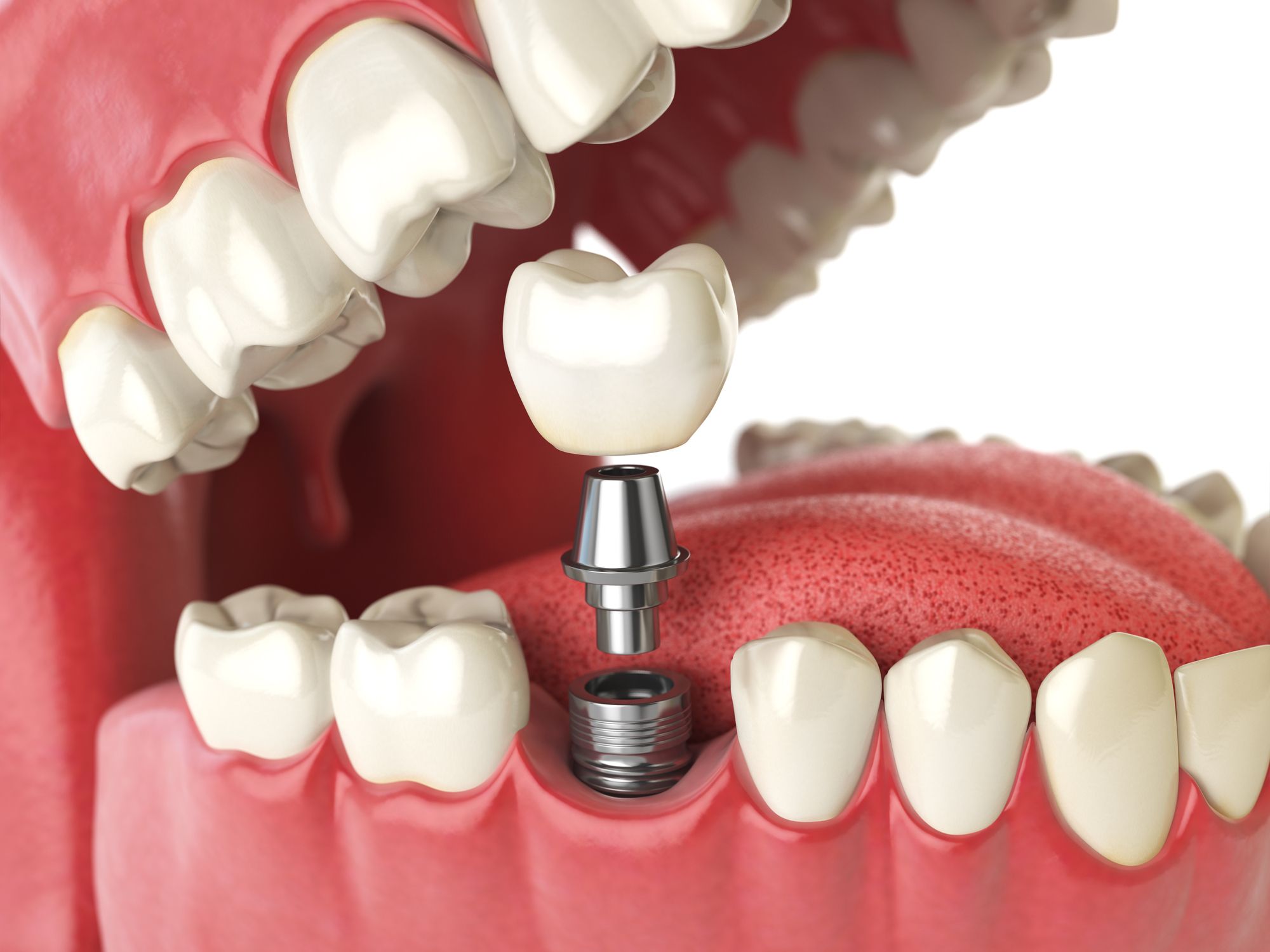 More and more people have been asking about
dental implants to help replace missing teeth
. Strong, sturdy, and secure, dental implants can restore the beauty of a person's smile as well as their ability to bite, chew, speak, and eat their favorite foods. Our Lincoln is happy to discuss the potential for dental implants for any patients missing a tooth or multiple teeth.
Not everyone is a good candidate for dental implants, however. Certain health conditions may make dental implants the wrong solution for you. With that in mind, let's consider how diabetes can lead to challenges for people who'd like to get dental implants.
Dental Implants: The Basics
First, the basics about dental implants.
Dental implants are artificial tooth roots that are surgically embedded into your jawbone and gum tissue. Following surgery, the implant fuses with the bone tissue, essentially becoming part of the jawbone. This process is known as osseointegration, and it helps the dental implant function just like a natural tooth root.
Once the dental implant or multiple dental implants are fully healed, they can support a wide variety of dental appliances to replace missing teeth. This includes a dental crown for an individual missing tooth or bridges, partial dentures, and full dentures for major tooth loss.
Health Problems Associated with Diabetes
While many people are eligible to get dental implants, diabetes can make treatment more difficult and even extremely risky. When a person suffers from diabetes, they experience issues with low insulin levels and high blood sugar. This combination of problems leads to a number of health problems affecting different parts of the body, including vision loss, kidney disease, and nerve damage.
In addition to these issues, there's also a potential impact on a patient's dental health and wellness. Tooth loss and gum disease are much more likely among diabetics. This may make it seem like dental implants are ideal for people with diabetes, but there are certain complications and risks to consider.
Healing Problems and Dental Implant Surgery
People who suffer from diabetes tend to be more prone to infection that people who do not suffer from diabetes. After undergoing oral surgery and in the months afterward, there's a chance of post-surgical infection and later problems with periodontal disease. Both can have a major impact on the effectiveness of implant dentistry treatment.
Greater Risk of Implant Failure in Diabetics
In addition to the risk of infection, diabetics may experience implant failure months after oral surgery due to slower healing times, problems with post-surgical healing, or periodontal disease and gum recession in the months after healing. Implant failure means the implant is not stable enough to support a restoration. This can require expensive secondary and revision treatments to correct.
Can Diabetics Still Get Dental Implants?
Yes. While the risks are higher for diabetics, they can still get dental implants placed. It's important for diabetics to be more attentive about their oral hygiene and dental care practices. This means brushing and flossing regularly and often, eating healthy, staying hydrated, and making sure their diabetes is in check.
Are Dental Implants the Right Option for Me?
The best way to find out if you are a good candidate for dental implants is to schedule a consultation with us at the practice. We can go over your situation and cover all the of the risks you may face. We can also suggest alternatives to dental implants that may be more ideal given your needs and your health issues.
Learn More About Implant Dentistry
For more information about dental implants and how they can help you have a healthy and beautiful smile, be sure to contact our advanced dental care team today. Our team looks forward to your visit and discussing your dental wellness issues in much greater detail.
Related to This