Since their modern introduction to dentistry, dental implants have changed the lives of millions of people. For those who are missing teeth, dental implants are considered the ultimate replacement option. Because they mimic certain functions of the natural teeth roots, they preserve the jawbone and keep your smile healthy. At our Lincoln, NE practice, Dr. Andrew R. Glenn offers traditional and mini dental implants.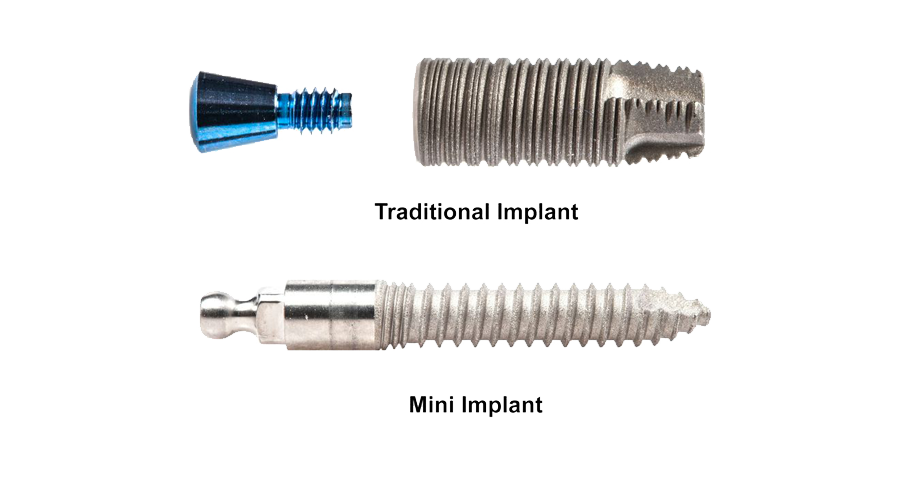 Sometimes, the jawbone may be too narrow for standard dental implants. In these cases, patients may qualify for mini dental implants, which have a smaller diameter than their traditional counterparts. Today, we will discuss mini dental implant candidates, and how this technology can help you achieve a beautiful, functional smile. Who is a candidate for mini dental implants? Read on to find out.
Patients Who are Ineligible for Standard Implants
Low jawbone density can occur due to trauma, congenital conditions, or tooth loss. If the jawbone is insufficient for any reason, you may not be eligible for traditional dental implants. This is because a dental implant must be completely surrounded by bone to be successful long-term. However, due to the smaller diameter of mini dental implants, patients who were previously told they did not qualify for implants can now enjoy the benefits.
Patients Who are Long-Time Denture Wearers
When teeth are extracted for dentures, the bony ridge underneath the gum tissue continues to shrink and atrophy over time. This is why most people who wear dentures require adjustments every year or so; the bone structure is always changing. For this reason, many patients experience shifting and movement whenever they are eating or speaking. Mini dental implants can provide support and stabilization for dentures, giving you greater self-confidence.
Patients Who are Seeking Fast Treatment
Placing mini dental implants is less invasive than placing the traditional counterparts. In some cases, incisions are not even necessary. Those who choose mini dental implants can also enjoy a faster recovery time.
Patients Who are in Good Oral and Overall Health
If you are considering dental implants – mini or traditional – you must be in good oral and overall health. Patients who have uncontrollable diabetes, are taking immunosuppression medications, or have a history of radiation treatments to the jaw may be better suited for alternative options. Additionally, you must be free from dental concerns, such as decay or gum disease, as these conditions can hinder the success of your implants. If periodontal therapy is required, it must be completed first, before beginning dental implant treatment.
How Do I Know if Mini Dental Implants are Right for Me?
Mini dental implants are an excellent option for patients who do not qualify for traditional implants. However, we typically recommend traditional implants unless there is a specific reason that they will not work in your case, as standard-sized implants are more predictable overall. Because of their smaller size, mini implants are more vulnerable to damage and failure, whereas traditional dental implants often last a lifetime.
The best way to know if mini dental implants are right for you is to schedule a consultation with Dr. Glenn. He can perform a complete assessment of your teeth and gums, and also determine your bone density through the use of our digital diagnostic imaging.
Learn More about Mini Dental Implants
To learn more about your options, or to schedule an appointment, reach out to a team member. You can contact us online, or call our office at (402) 421-3401.
Related to This